Lake Pet Hospital Medical Services
Wellness Exams
We believe that these exams are important in every phase of your pet's life. Routine examinations are performed at all of our vaccination appointments. However, due to the fact that your pet's life span is shortened compared to your own, it is especially important to perform routine geriatric exams to ensure that your pet is aging appropriately. Our in house blood analysis can perform geriatric panels to check for any issues that may be arising with your pet. Early detection will help us assist you in letting your pet live up to it's potential.
Vaccinations
We perform yearly vaccinations on your pet to maintain a healthy lifestyle. We do not believe that one vaccination protocol fits all pets. Our doctors will take into consideration the lifestyle and exposure to disease of your pet and recommend a vaccination protocol especially tailored to your pet's needs.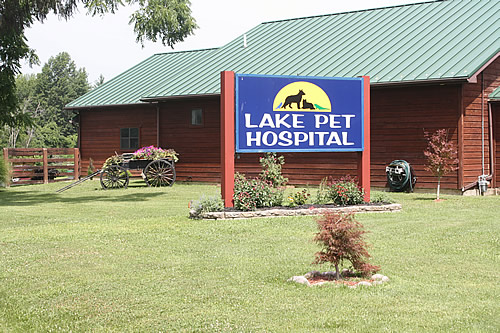 Surgical Services
We provide a full array of surgical procedures for your pet. Some of our routine procedures include spay, neuter, declaw, and tumor removal. Our doctors are also trained to do orthopedic procedures, ear cropping, cosmetic eye surgery, anal sac removal, repair of fractured bones, tail docking, hernia repairs and a whole array of specialty procedures.
Additional Ear Crop Images:
Dentistry
Our dental services include teeth cleaning, teeth polishing, and tooth extractions. Good oral health is imperative to the overall health of your pet and we are dedicated to helping our clients achieve that through excellent service.
Laboratory & Diagnostics
Our in house laboratory facilities provide for serum chemistry, hematology, urinalysis and parasites testing. We also utilize commercial veterinary laboratories for specialized diagnostics and consultations.

Laser Therapy
Class IV Deep Tissue Laser Therapy uses a laser light to penetrate tissue without damaging it. Laser energy induces a biological response in the cells called "photo-bio-modulation" which leads to reduced pain, reduced inflammation and increased healing.
Microchip Identification
We use the Home Again microchip and offer the implantation service for an economical fee. This is a permanent identification system to help ensure your lost pet finds it's way home back to you.
Radiographic Services
Our new digital radiograph system delivers excellent quality images for our doctors to diagnose a wide variety of diseases and disorders. The imaging takes seconds to capture and is a valuable diagnostic tool in our practice.
Pharmacy
We maintain a complete inventory of pharmaceuticals, vitamins, shampoos, flea and tick products and heartworm preventatives to meet the needs of your pets
Reptiles/Birds/Pocket Pets
Our doctors and staff are able to care for the needs of many exotic pets. In addition to routine care, we offer beak/wing/toenail clipping of our avian patients. For the rodents, we offer teeth trimming and oral exams. Our staff is able to provide information about routine diseases in each of these species and advice on husbandry management of your exotic pet.
Prescription Diets/Food Products
We maintain a full inventory of the Hill's Prescription Diets and Science Diets, the Iams/Eukanuba products and the full line of ProPac pet foods. If we do not routinely carry what your pet needs, we can special order any type of diet.
End of Life Care & Home Euthanasia
We would like our pets to live forever, but unfortunately that is not reality. Our doctors and staff can help you and your pet during this painful process and provide the most caring and humane end of life care as possible. If you prefer, we provide the service of performing euthanasias in your home to try and reduce the stress to you and your companion.
Emergency Care
Please call our main phone number for instructions for the after hour emergency services.