573-392-3257
Lake Pet Hospital
205 S. Walnut Street
Eldon, Mo 65026
Fax : 573-392-0356
OUR VETERINARIANS
Kathleen Vetter-Bisges, D.V.M.
Kellien Kuschel, D.V.M.
Kristen Clenney, D.V.M.
Caroline Ward, D.V.M.
Lauren Prenger, D.V.M.
Drew White, D.V.M.
Arek Jorgensen, D.V.M
Welcome to Lake Pet Hospital at Lake of the Ozarks
Lake Pet Hospital is a full service medical and surgical veterinary hospital located in the beautiful Lake of the Ozarks community. Our hospital location is at the junction of Hwy Y and Hwy 52 in Eldon, approx. 8 miles north of Osage Beach on Highway 54.
Our practice consists of 7 veterinarians, 2 pet sylists, 2 registered animal health technicians, and a support staff of 23. We are a well established practice that believes in providing our highly valued clients with the best possible medical, surgical, and dental care.
Lake Pet Hospital was established in 1985 by Dr. Kathy Vetter-Bisges. As a full service animal hospital, we provide your pet with the finest in comprehensive veterinary care tailored to meet your individual needs. Our veterinarians and staff will provide information and advice to help you make informed decisions about the care of your pet. Every pet owner is unique … our health and wellness programs are custom made and unique as you are.
Our practice is located in Eldon Missouri, but serves the entire Lake of the Ozarks community.
VOTED #1 BEST PET GROOMING AND
BEST VETERINARY HOSPITAL
Now Offering Chiropractic Services with Dr. Arek Jorgensen
Chiropractic is most often used as a non-invasive form of therapy for treating conditions of the nerves, muscles and skeletal system. It focuses on making the body have its proper form to allow proper function to proceed. With this, chiropractic can be used to help any animal feel and heal better. Chiropractic is applicable to all life stages of our furry family members whether they are healthy, sick, lame or performing.
Now Offering Laser Therapy
Laser therapy is a surgery-free, drug-free, noninvasive treatment to:
Reduce Pain
Reduce Inflammation
Speed Healing
Class IV Deep Tissue Laser Therapy uses a laser light to penetrate tissue without damaging it. Laser energy induces a biological response in the cells called "photo-bio-modulation" which leads to reduced pain, reduced inflammation and increased healing.
Dr. Bisges Inducted Into Missouri Veterinary Medical Foundation's Veterinary Honor Roll
Dr. Kathleen Bisges, owner/practitioner at Lake Pet Hospital, Eldon, Mo., was inducted into the Missouri Veterinary Medical Foundation's (MVMF) Veterinary Honor Roll.
The ceremony, attended by family, friends and colleagues, was held September 8, 2018 at the Foundation's Museum in Jefferson City, Mo. She was presented the Honor Roll Induction Plaque by long-time friend and colleague, Dr. Roger Dozier.
The honor is given to Missouri Veterinary Medical Association (MVMA)-member veterinarians who have demonstrated leadership in their community and/or profession. They are sponsored by a current MVMA member and have been approved for the honor by the MVMF board.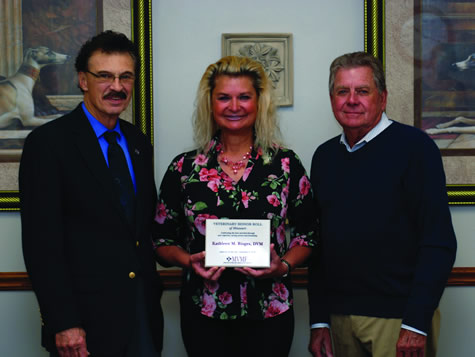 Experience, Excellence, and Service Make Lake Pet Hospital the Right Veterinary Care for You and Your Pet